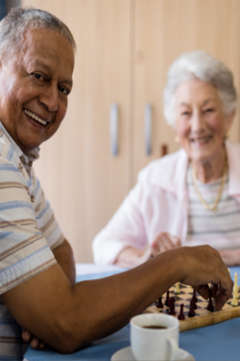 When a loved one's health starts to decline, the family must weigh all possible options to determine what's best for quality of life. If the senior lives alone, has a health condition or is at increased risk for falls, it may be time to consider skilled nursing care as a serious option. Although your family member may be hesitant to move into a facility, he or she would be surprised to learn of all the great amenities a home like West Hartford Health & Rehabilitation Center has to offer.
If you move mom or dad in, will life be improved?
Access to Care
In our skilled nursing facility, we are fully staffed to help care for your loved one. In addition to healthcare, we also promote resident safety. Our facility is equipped with slip-resistant floors and a wandering alert system. Not only will your family member feel safe, but you can rest assured he or she is receiving top-notch, professional care.
Choice of Activities
At West Hartford Health & Rehabilitation Center, we have a calendar of activities that is updated monthly to meet resident interests. From exercise classes to outdoor concerts and an annual holiday craft fair, residents have the option to choose an old favorite or try something completely new. When was the last time your senior played bocce at home?
Opportunity to Meet People
When seniors live on their own, days can become lonely. Mom or dad may venture out once
a week to go to the senior center, but when they are unable to drive or move around on their own, social time can suffer. At our facility, we encourage residents to interact with one another and make new friends during their stay. Socialization is key to prevent depression.
Proper Nutrition
As we age, nutrition becomes even more important for continued health. Living at home, it may be difficult for a senior to get to the grocery store or cooking may be avoided altogether to prevent kitchen fires. We are proud to offer an evolving menu of fresh selections that are rich in the vitamins and nutrients residents need to feel stronger.
Independence
Our number one mission at West Hartford Health & Rehabilitation Center is to deliver high-quality care to our residents for the peace of mind of their families. Part of this process involves allowing our residents to function on their own when it is safe. That way, they do not lose their dignity or feel controlled in any way. In no time, our facility will feel like home.
We believe these 5 features are the perfect recipe for resident happiness. To experience what it's like to live in our community, schedule a tour today!