Our facility offers patients and long-term residents gourmet dining with a selective menu that changes with the seasons, featuring many local specialties.
Dining With Us
Benefits of the dining experience at West Hartford Health and Rehabilitation include:
A large formal dining room that overlooks Trout Brook
Optional outdoor seating along a 200-foot patio
Tables set with vibrant Fiesta Ware™ tableware which:

Contributes to the dining experience.
Helps our residents with limited vision to see the contrast between food, plate and tablecloth.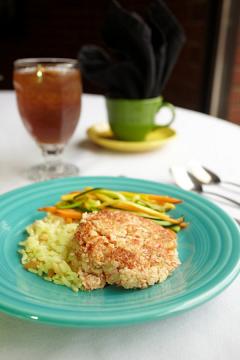 Our friendly hostess staff meets with every new resident and reviews their full history to determine preferences, which our staff strives to accommodate. Additionally, they meet weekly with all residents to assist with menu selection.
Our hostesses are also available in the dining room during meals for continued meal satisfaction. There is an extensive a la carte menu if selections are not to a resident's liking.
Our in-house Registered Dietitians have over 20 years of professional experience. They evaluate each resident's needs and work with the medical and dining staff to maximize optimal nutritional well-being. Our diets are flexible to promote compliance and resident satisfaction, which continues to make our dining services successful.
Social events are frequently held in front of our cozy fireplace. This area is always available for residents to socialize with their families.