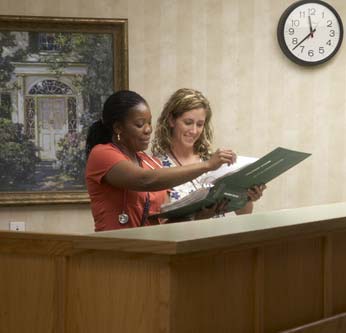 West Hartford Health & Rehabilitation Center has an extensively trained medical and nursing staff, who are able to provide a unique variety of care and treatments. Patients and residents at our facility seeking care for short-term rehabilitation, long-term care, dementia or another condition can rely on our skilled nurses and physicians to meet their medical needs. Our high patient-to-staff ratio exceeds state requirements, which helps ensure that your family member is receiving attentive, comprehensive and individualized care of the highest quality.
Our Approach
We customize our patient treatment plan to promote a faster recovery. Working one-on-one with all patients, we strive to uncover their optimal functionality through an individualized approach. The staff at West Hartford Health & Rehabilitation Center is referred to as our "Interdisciplinary Care Planning Team" because they work together to devise and execute the best course of care on an individual basis. The progression of each patient is closely monitored, including a therapeutic diet designed by our on-site Registered Dietician.
What Services Do We Offer?
The medical staff at West Hartford Health & Rehabilitation Center is comprised of over 20 professionals, including physicians, nurse practitioners, registered nurses (RN) and certified nurses' assistants (CNA) to oversee care activities.
Specialized, 24/7 care includes:
I.V. therapy
Tube feeding
Pain management
Wound care
Peritoneal Dialysis (CAPD)
Surgical recovery
X-Ray, laboratory and respiratory services
Non-ventilator-dependent pulmonary management
Consultative services in podiatry, dentistry, psychiatry, optometry and audiology
Each area of our facility is also supervised by a Medical Director, who is a licensed physician.
The Medical Director:
Assists the RNs in developing an individualized healthcare plan for each patient.
Works in tangent with an APRN to create a safe and comforting environment.
Our APRN has advanced nursing knowledge and the ability to grow trusting relationships with every patient. The co-supervision of the Medical Director and APRN encourages open communication between our nurses and physicians, so your loved one will always receive superior care.
To learn more about our Medical and Nursing Services
Contact Us Today