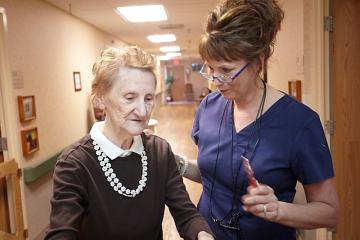 What Is Long-Term Care?
When your loved one is living with a chronic illness, memory loss due to a form of dementia or a physical disability, sometimes the only option is to seek long-term care services at a high-quality facility. Although it can be a difficult decision for primary caregivers, individuals who need round-the-clock attention are well cared for at our facility. You can trust the skilled nursing and ancillary staff at West Hartford Health & Rehabilitation Center. We provide medical care as well as assistance with "Activities of Daily Living," such as eating, bathing, dressing and getting out of bed.
Our Approach to Long-Term Care
Our philosophy is to provide all long-term care residents with high-quality of living. When staying in our facility, your loved one will be in a home away from home. The environment is comforting and our staff is friendly and attentive.
You and your family member can expect:
High-quality, wholesome food
Clean living and recreational spaces
Visits from family and friends as frequently as they would like
An abundance of recreational activities
The option to have pets visit
Religious services
Meet Our Nursing Staff
Our long-term units have one nurse on duty for every 30 residents. The nursing staff is comprised of registered nurses (RNs), licensed practical nurses (LPNs) and certified nursing assistants (CNAs), preferably having experience in providing long-term care. Registered nurses and licensed practical nurses are able to:
Pass medications
Perform certain medical treatments, including respiratory therapy
Are CPR certified
Monitor vital signs
Observe and assess skin or wound issues, nutrition, pain and neurological problems
Supervise the certified nursing assistants
The RNs and LPNs collaborate with attending physicians and advanced practice registered nurses (APRNs) to provide all residents with comprehensive care. Each unit also has a group of certified nursing assistants to help with daily care activities. These include:
Bathing
Dressing
Feeding
Toileting
Oral care
Ambulating
Vital signs
Monitoring of meal intake
Bowel and bladder activity
Assistance with recreational activities
Our goal is for residents to maintain as much independence as possible. We do so by encouraging them to do as much as they can on their own, while still promoting safety.
To learn more about our Long-Term Care Services
Contact Us Today