Overview of Activities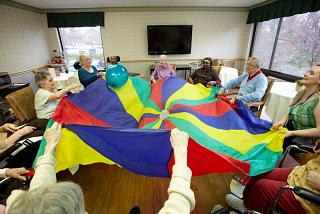 In an effort to promote an active lifestyle for our resident, West Hartford Health & Rehabilitation Center offers many recreational programs. Under the direction of our Recreation Director, these programs are meant to encourage a fun and fulfilling experience.
It is wonderful for families to see their loved one engaging in activities that they once liked, but were unable to continue due to their physical condition. Through the abundance of programs offered, residents also have the option to try something completely new. If your loved one has a suggestion for an activity that we do not currently offer, our Recreation Department always considers individual requests.
Our Recreation Director, along with the Recreation Department always try to accommodate special interests. Providing the best quality of life for our residents is most important to us. To oblige these interests, we often recruit the help of those knowledgeable. Our talented group of community volunteers also help to enrich the experience of our residents.
Recreational Programs
For a full schedule of our recreational programs offered on a monthly basis, individuals and their families can browse our recreation calendar.



Our activities include, but are not limited to:
Art classes
Exercise classes
Religious services
Intergenerational activities
Musical entertainment
Lectures
Library on Wheels
Parties for residents and their families
Outdoor lawn concerts and special programs for the community
Holiday craft fair
Ceramics and craft programs
Discussion groups
Poetry and drama groups
Dementia based programs
To learn more about our Therapeutic Recreation Services
Contact Us Today