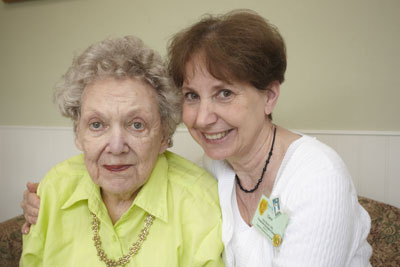 As the primary caretaker of an aging or disabled loved one, we understand that sometimes you could use a break. Whether you are heading off on vacation, have business plans or simply need to catch your breath, West Hartford Health & Rehabilitation offers a sense of security and comfort that you should expect from a skilled nursing facility.
Our Approach to Respite Care
If you are responsible for taking care of a family member who lives with you, but need to be away from home, you can trust our family of skilled healthcare practitioners to care for your loved one with the confidence and respect they deserve. Residents typically receive respite care for one to two weeks. At our facility, residents may take part in a variety of recreational programs while enjoying the safety of our grounds under round-the-clock supervision. We tailor our programs to meet the personal interests of your loved one. You can rest assured that your family member will receive the individualized care they need during their stay with us.
Medical Services Provided
Providing the medical care for aging or ill loved one can sometimes extend beyond your scope of experience. At West Hartford Health & Rehabilitation, we offer an array of medical and nursing services for residents receiving respite care.
These services include:
I.V. therapy
Tube feeding
Pain management
Wound care
Peritoneal Dialysis (CAPD)
X-Ray, laboratory and respiratory services
Non-ventilator-dependent pulmonary management
Caring for loved ones is critical, but taking care of yourself is also important.  At West Hartford Health & Rehabilitation, we can provide an active, healthy and comforting home-away-from home for your family member.
To learn more about our Respite Care Services
Contact Us Today