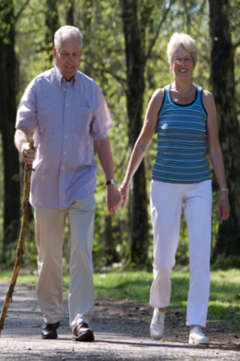 Summertime is here! For many of us, that means vacation, backyard barbeques and day trips to the beach. While we enjoy time with family and friends in the warm sunshine, our aging loved ones could be spending most of their time indoors to avoid the heat. Although it is not advised that seniors spend their days outside during the "Dog Days of Summer," we list 5 activities that are safe for the early morning and evening.
Walking
The sun is strongest between 10am and 4pm, so many physical activities are recommended for dawn or dusk. Walking is a simple, yet effective way to keep blood circulating while enjoying nature. Many seniors rise and rest early, so a walk when the sun comes up or goes down can be a calming and scenic activity to start or end a day.
Swimming
This low-impact, aerobic activity is a summertime favorite. There is no feeling quite like a dip in the pool on a really hot day. However, when the sun is blazing and the heat index is high, opt for an indoor pool that will protect aging skin and eyes from the effects of UV rays. Not only does swimming get the body moving and heart rate up, but it is also easy on our joints.
Gardening
At West Hartford Health & Rehabilitation Center, we take great pride in the appearance, comfort and amenities of our facility. However, it is nice for our residents to get out in nature on a beautiful day when the heat and sunshine are mild. Gardening is a relaxing activity that helps improve flexibility and build endurance. Plus, the herbs and vegetables we grow in raised beds on the deck are used for cooking in our facility's kitchen.
Kite Flying
This classic pastime would be great to try with your grandchildren and their friends. Another low-impact activity, kite flying can be done standing or sitting. On a day of abundant sunshine, seniors can protect themselves from the heat by sitting in the shade with a kite handle, while the kids fly their own kites.
Bocce Ball
Do you have a loved one who is extremely competitive? Not all summertime activities have to be passive! Bocce ball is a simple game; the object is to get your bocce ball closest to the "jack" by tossing it underhand down the court. This is another activity that requires little physical effort, but keeps the body in motion for seniors who like a challenge.
At West Hartford Health & Rehabilitation Center, we strive for our residents to have the best quality of life during their stay with us. All year round, that involves new and fun recreational activities! To learn more about admission to our facility, contact us today.