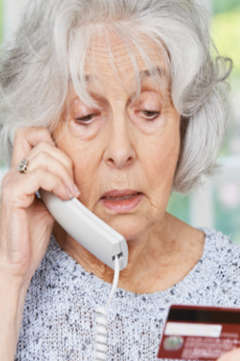 Financial scams that target seniors have become so prevalent that many consider them "the crime of the 21st century". The Baby Boomer generation of those well into retirement age is a common target of financial scams, partially due to the fact that these people worked when there were unions, pension plans and secure retirement saving options.
Unfortunately, financial scams often go unreported and can be difficult to prosecute. Many seniors find themselves being targeted through their phone, email or social media accounts by scammers looking to take advantage of Medicare benefits, prescription drugs and investment schemes.
Seniors should be aware of the following 4 scams.
Medicare/Health Insurance
Every US citizen over the age of 65 qualifies for Medicare, making it easy for scammers to identify a pool of potential targets. Often, perpetrators will pose as Medicare representatives and get seniors to provide their personal information, which is then used to bill Medicare for fake services; the scammers pocket the money.
Counterfeit Prescription Drugs
The internet can be a very dangerous place for seniors. Going online to find better prices on specialized medications can lead them to a scam website, where prescription medication is offered at a very low price. However, when the buyer receives the medication, its regular aspirin or in some cases, a harmful substance that can worsen a condition.
Investment Schemes
Seniors who have planned well and have cash saved for retirement are particularly vulnerable to investment schemes. Contact is made by someone who claims to be a financial planner and the senior is convinced their money can go even further by participating in real estate investments and other fraudulent ventures.
Social Security
Reports show a significant increase in calls to seniors from people claiming to represent the Social Security Administration. The fraudster threatens the victims with arrest if they fail to follow through on an action that reveals their Social Security number or requests a payment. The SSA rarely makes contact by phone and never threats legal action.

West Hartford Health & Rehabilitation Center is a local resource for seniors and families looking for more information on healthful living as we age. To learn more, contact us today!