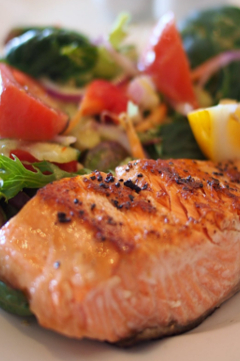 Alzheimer's disease, the most common type of dementia, causes a nonreversible decline in mental function. The group of diseases that encompass dementia affect memory, judgment and personality in older adults. Though no cure has been found, studies show dietary changes can help reduce the risk of Alzheimer's and dementia.
Research has shown that people who exercise regularly, maintain a healthy diet and interact socially with friends have a much better chance of not developing dementia. More attention is now being focused on diet and nutrition as critical ways to avoid certain diseases.
The following foods have been linked to a lower risk of Alzheimer's and dementia.
Berries
Strawberries, blueberries and acai fruit are a benefit to the brain, with studies showing improved memory in children as young as 8, all the way through older adulthood.
Coffee
Caffeine has many cognitive benefits, including significantly lower risk of progression from mild impairment to dementia. Coffee drinkers have also shown improvements in overall memory, spatial memory and working memory.
Nuts
Several studies have connected nut consumption to a lower risk of dementia. Some research demonstrates improved memory and recall in people whose cognitive functioning is normal, while other research has shown that nuts may even be able to improve memory in those who already have Alzheimer's disease.
Fish
The omega 3 fatty acids found in certain types of fish, including salmon, sardines, tuna, halibut and trout, have been proven great for brain health.
Other foods linked to lower dementia risk include vegetables, cinnamon, turmeric, cocoa and dark chocolate. A healthy diet can also improve mood, digestive health and increase energy for physical activities.

At West Hartford Health & Rehabilitation Center, we have in-house Registered Dietitians that evaluate each resident's nutritional and medical needs to devise a diet that maximizes well-being. To learn more about our facility amenities, contact us today!