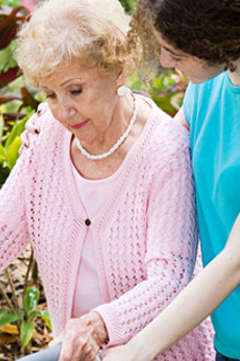 Are seniors safer living at a skilled nursing facility than alone? While senior living homes can provide more care and attention to prevent falls and other incidents, researchers at the Brown School at Washington University wanted a more definitive answer.
Their recent study looked into whether or not senior living environments have an effect on overall health and the subsequent number of hospitalizations.
About the Study
Researchers used a decade of data from the Health Retirement Study to compare the hospitalization history and housing environments of 1,401 older individuals. "Vulnerable" seniors – defined as those with moderate or low incomes who live alone with multiple chronic conditions – were compared to seniors living in a retirement community, senior citizens' housing or other setting with services for older adults. The study concluded that the vulnerable seniors were more likely to be hospitalized than senior living residents.
Said the lead author, "Our findings suggest that the positive effects from the various support services available in the senior housing environment accrue over time in helping vulnerable elders better manage their health conditions."
Benefits of Skilled Nursing Facilities
West Hartford Health & Rehabilitation Center is a safe and caring environment for aging individuals who can no longer live independently. We offer a variety of amenities to improve quality of life, whether your loved one is here for a short or long-term stay. What are some advantages of living in a skilled nursing facility?
Round-the-clock access to medical care and assistance
Trained staff who can identify health warning signs for prompter treatment
Nutritious meals designed to meet specific dietary needs
Extensive choice of recreational activities
Opportunities to meet new people and socialize
Dignified and respectful treatment
To learn more about the services offered at West Hartford Health & Rehabilitation Center, contact us today!