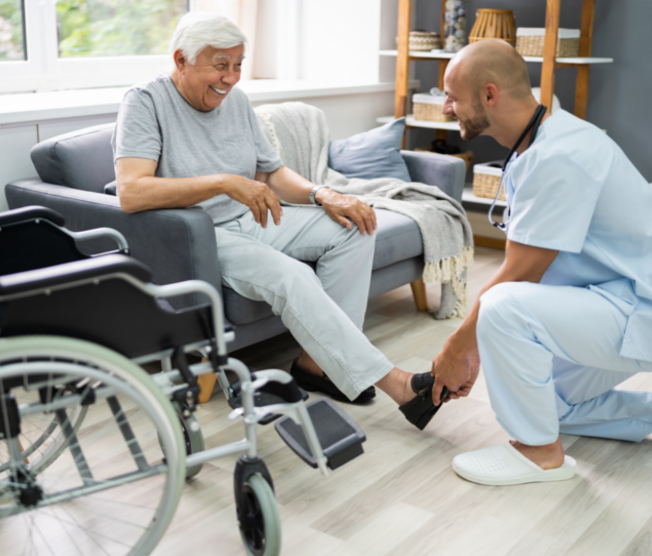 Falls can have dangerous consequences for older adults. A fractured hip or broken arm can affect a senior's quality of life and potentially be fatal.
While fall-related injuries are often associated with uneven or slippery surfaces, footwear can also play a role. Shoes should be comfortable, provide traction and fit well to help reduce fall risks.
Here's what you should think about as you shop around.
What Makes a Good Shoe for Seniors?
Multiple factors related to footwear can contribute to falls among seniors, including:
Worn treads or a too-smooth outsole that increases fall risk on smooth surfaces
Shoes that are too big or bulky
Being unaware that shoes are too loose, due to decreased sensation in the feet
Shoes that contribute to balance issues
Feet that always feel sore, decreasing how well the wearer can move
With these points in mind, the shoes you select should:
Sit close to the foot without being too tight and restricting blood flow
Have a grippy outsole that will help you navigate uneven and slippery surfaces
Include cushioning to reduce impact and protect the feet from rough surfaces
Have support arches
Be able to regulate temperature and moisture
Reliably stay in place; consider a pair with Velcro straps or minimal adjustable laces
Have a wide shape to accommodate feet that may swell
Improve or maintain balance; the heel or lift should be no greater than one inch
Not be too flexible, as this can reduce stability and increase risk of a twisted ankle
Have a closed heel to prevent the shoe from slipping off
Not be so heavy that the wearer cannot lift their feet and has to shuffle to walk
Shopping For Shoes to Reduce Falls
Whether for yourself or a loved one, keep these factors in mind when buying a pair of shoes:
Try On the Shoes: Rather than shopping online, go to a shoe store to be professionally fitted. Make sure to wear socks for an accurate fit.
Walk Around In Them: Walk around the store to make sure you can move comfortably and feel steady in the shoes.
No Break In Period: Properly fitting shoes should feel comfortable from the start.
Types of Shoes for Seniors
Seniors should have multiple pairs of shoes that address different weather and walking conditions. Be sure you or your loved one has:
A reliable pair of walking shoes. These should provide enough traction for walking around your home, the yard and on sidewalks. Look for something with a thinner rubber shoe you can put on with ease, ideally with adjustable Velcro or elastic laces.
Orthotics to lessen foot pain and pressure, while improving balance. Orthotics tend to be recommended for adults with diabetes or arthritis.
A house shoe that offers enough grip on tile, linoleum, wood flooring and stairs. Make sure traction continues on wet, slippery surfaces.
Winter shoes for walking outdoors, potentially on ice. Look for a pair of rubber-soled boots or shoes with insulation for warmth and moisture protection.
A summer shoe with full coverage that lets the foot breathe without sliding around. Consider a sandal with adjustable straps and a heavier outsole, rather than flip-flops.
After a fall, the staff at West Hartford Health & Rehabilitation Center is here to help you recover with short-term rehabilitation services. To learn more about how we can assist you or a loved one, contact us today.