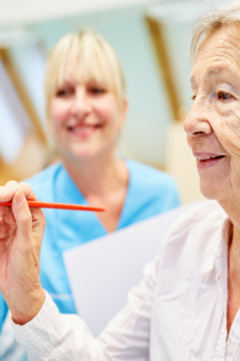 At a glance, therapeutic recreation might seem like basic leisure activities for seniors. Yet these activities often benefit the elderly on physical, cognitive, social and emotional levels.
If your loved one is currently being treated at a skilled nursing facility or therapeutic recreation has been recommended, here's what you should know.
Basics of Therapeutic Recreation
Seniors may be steered toward therapeutic recreation to learn to live with new limitations, including those that arise from a stroke or age-related condition. The therapy promotes physicality and helps seniors re-learn activities, despite the restrictions of their condition.
Therapeutic recreation can also help aging individuals maintain their existing physical and cognitive abilities. With these points in mind, therapeutic programs typically include:
Light Exercise: Activities like swimming, walking or seated chair exercises help seniors improve mobility, joint flexibility, balance, agility and coordination. Low-impact exercise programs have also been known to benefit a range of conditions, including the management of hypertension, diabetes or osteoporosis.
Cognitive Exercise: A range of activities can help improve or strengthen problem-solving, organizational skills and general mental agility. A facility may schedule therapeutic recreation activities like painting, sculpture, drawing, board or trivia games to stimulate creative thought processes, while engaging fine motor skills.
Stimulation: Certain activities, such as music therapy and aromatherapy, are known to calm elderly adults living with dementia. These activities stimulate the senses and are designed to get seniors to relax or relive specific memories.
Horticulture: Seniors tend a garden, perhaps growing fruits, vegetables or flowers. In the process of engaging fine motor skills, they also get to spend time in nature.
How Therapeutic Recreation Helps Seniors
Regular engagement in therapeutic recreation offers several long-term benefits:
Strengthened Muscles: In conjunction with occupational and physical therapy, therapeutic recreation works to strengthen muscles following a health event. Long-term, stronger muscles help reduce the incidence of fall injuries and may help stave off osteoporosis.
Improved Cognitive Health: Studies have shown that patients living with Alzheimer's are less likely to engage in dementia-related behaviors, display a more positive mood and tend to be more alert following therapeutic activities.
Better Physical Fitness: Especially after engaging in light physical activity, elderly adults have improved cardiovascular fitness, flexibility and lower blood pressure.
Contrast to Environment: Therapeutic recreation offers some respite outside of the typical long-term care setting. Because most activities are group-based, they further create a sense of community among seniors, helping to reduce feelings of frustration, depression, isolation and anxiety that are common in the elderly.
West Hartford Health & Rehabilitation offers a variety of therapeutic recreation activities for our residents. Contact us today to learn more about services.