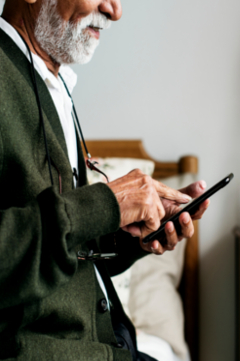 Long-term care facilities and nursing homes across the country have implemented restrictions on all visitors to help prevent the spread of COVID-19. The Centers for Disease Control and Prevention (CDC) and the Centers for Medicare and Medicaid Services (CMS) updated their guidelines in March with specific instructions to keep residents safe.
Specifically, the CDC and CMS have requested facilities stop admitting outside visitors, including non-essential personnel and volunteers, with the exception of end-of-life situations. Additionally, the agencies asked that facilities restrict communal dining, cancel all group events and classes, and screen residents for fever and respiratory symptoms.
These recommendations have brought about significant changes for residents – particularly, reduced contact with loved ones and friends. As a result, residents may be feeling isolated.
How can you stay in touch during the global pandemic? We recommend and can facilitate the following methods for our residents and their families.
Make Phone Calls
Keep in touch with regular phone calls to see how your loved one is feeling. Ask about their day, their mental wellbeing throughout this crisis and give updates on the rest of the family.
When you call the facility, also take time to speak with the staff about any recent updates. This provides you the full picture of what's going on and how your loved one is being cared for during this time.
Stand Outside the Window
This form of communication has received significant news attention and caught on fast among those wanting to see their loved ones face-to-face. You can stand outside the window of their room with a written message or call them on the phone.
Facetime, Skype & Facebook Portal
For residents who brought their own electronics or have access through the facility, you can talk to loved ones over video. This is a convenient option for families and friends who live further away.
In addition to making video calls, electronics also keep residents occupied during the day with books, games and web access.
Send Cards and Letters
If the facility is safely able to handle mail during this time, send hand-written letters and cards. Consider including some photographs to brighten your loved one's day and remind them of home.
As we all navigate through these unprecedented times together, our facility continues to provide the highest level of care in a controlled environment. The CDC has discouraged removing your loved ones from long-term care facilities and nursing homes during this global outbreak.

To keep in touch with your loved ones staying at West Hartford Health & Rehabilitation Center, contact us to schedule a phone call, video conference or window meeting today!