At West Hartford Health & Rehabilitation Center, we provide short-term care to many patients. After these patients recover from their acute injury or illness, we send them home to a safe environment. Prior to discharge, we may conduct a home assessment to make sure that the space is safe and allows mobility for the patient. We recommend any equipment installation and modifications as needed, and make sure the home is safe and prepared upon discharge.
Once your loved one arrives home, how can you continue to make sure it's safe?
Preventing Falls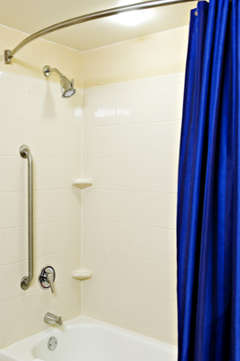 The biggest concern for an older adult living on his or her own is the risk of falling. According to the National Council on Aging (NCOA), falls are the leading cause of death in older individuals, resulting in almost 30,000 fatalities annually. A senior is treated at the emergency room for fall-related injuries every 11 seconds! Why are falls so common? As we age, we become unable to react quickly enough to a loss of balance. Leading a sedentary lifestyle also decreases overall muscle strength and agility.
How Can You Make Your Home Safe?
Taking the following safety precautions can help decrease the risk of your loved one falling:
Install handrails, grab-bars, skid-resistant bath mats and ramps as needed.
Make sure uneven or ripped rug edges are sealed to the floor, or replace them.
Block loose electrical cords with pieces of furniture.
Wear shoes with proper traction for all surfaces.
Make sure the home is well-lit, especially in the bathroom.
Take your time getting out of bed, showering or bathing and dressing.
Keep important items within arm's reach, to avoid using a ladder or chair.
Maintain an active lifestyle (to the best of your ability).
It's also important to review old and new medications for side effects that may lead to a fall, including dizziness, drowsiness or confusion.
Other Safety Measures
Falls are not the only potential injury or fatality risk for seniors living on their own. To prevent sudden house fires that give no warning, install new smoke and carbon monoxide detectors on each floor of the home (preferably outside of bedrooms). Test the alarms once a month and replace old batteries with fresh ones as needed. Keeping a fire extinguisher in the kitchen can also help prevent small stove fires from becoming detrimental.
At West Hartford Health & Rehabilitation Center, our services include short- and long-term care, hospice, respite and more. Contact us today to learn more information!