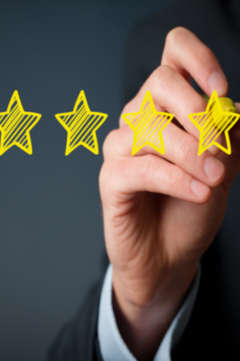 The Centers for Medicare and Medicaid Services is a federal agency that provides health insurance to seniors over the age of 65 and certain younger individuals who have a qualifying disability. In addition to its health insurance programs, CMS provides families and caregivers with a Five-Star Quality Rating System for nursing homes. The system evaluates facilities based on three main criteria: Health Inspections, Staffing and Quality Measures. Nursing homes also receive an overall rating based on a very complicated formula that is more accurate than a simple average of the three categories mentioned above.
The rating works on a scale of one star (well below average) to five stars (well above average).
Health Inspections
This rating is based on the results from a facility's last three health inspections. In addition to cleanliness, safety and resident care, any complaints against the nursing home are also taken into consideration. These assessments are performed by third-party health inspectors who are looking to objectively evaluate a facility's overall atmosphere.
Staffing
Whether a facility receives a 5-star rating for staffing depends on several factors, including the number of residents in their care and the degree of attention they require. For example, a nursing home that mainly treats short-term rehab patients may have less staff than one that provides round-the-clock dementia or hospice care. The dementia and hospice care workers will be expected to provide a certain number of hours of quality care per resident.
Quality Measures
This standard is based on 11 distinct factors that contribute to the overall quality of life in a nursing home. Are the residents happy and receiving the level of care they need? When there is an above average number of falls, medication errors or complaints against the staff, a facility is unlikely to receive a high mark for quality.
How Can Families Use This Information?
When you're looking for the right skilled nursing home for a loved one, the CMS star rating is an important factor to consider. If a facility is lacking in one or more areas, families and caregivers are encouraged to ask questions about the quality of care being provided. We encourage you to visit a facility; placement decisions should not be based on the star rating alone.
To learn more about our 5-Star Medicare Rating, contact West Hartford Health & Rehabilitation Center today!