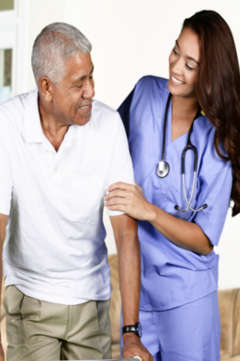 As an adult caregiver, you have been attending to a loved one's needs for many years. After a period of part or full-time duties, you've come to realize more comprehensive, advanced care may be needed.
In professional settings, long-term care encompasses medical and non-medical services, including assistance with daily activities like bathing, dressing and cooking.
As you begin your search, here's what you should look for in a skilled nursing facility like West Hartford Health & Rehabilitation Center.
Facilities That Accept Your Insurance
This approach can narrow down your options. Patients using Medicare Part A are eligible for:
Medically necessary, skilled services and care in a skilled nursing facility
Limited home and community long-term care
Short-term stays after hospitalization
As a note, Medicare will not cover strictly custodial care – help with day-to-day tasks – and long-term nursing home stays. By contrast, Medicaid offers coverage for long-term nursing home stays, as well as home- and community-based care, for those meeting eligibility requirements.
Some individuals have dedicated long-term care insurance, which can be applied to skilled and non-skilled care, but not all coverage is consistent. Policies may strictly apply to nursing home care or could offer a broader range of possibilities. As you compare long-term care facilities, understand how much coverage a policy offers and if it has any limits.
Where and How to Start Your Search
Start by asking for advice from others. Caretakers who have been in your position, your loved one's doctors and resources provided by the Centers for Medicare and Medicaid Services (CMS) can be very helpful. The Centers for Medicare and Medicaid Services (CMS) Nursing Home Compare website is another valuable resource.
Also determine the type of care your loved one will need. Does he or she strictly require assistance for daily tasks or will medical treatment be necessary? Resources like the US Administration on Aging and the National Association of Professional Geriatric Care are great starting points.
As you search, put together a list of best-suited facilities, then check with your state's Department of Public Health to make sure each is properly licensed.
Qualities to Look For In a Long-Term Care Facility
Before making a decision, request a tour of each facility. During your visit, ask yourself the following questions concerning the quality of care:
Which therapies and rehabilitation treatments does the facility offer?
Will your loved one be able to see his or her personal physician?
Does the facility have specialists on staff or will you have to make arrangements?
Will the home offer access to mental health and oral care?
How many Certified Nursing Assistants (CNAs) are assigned to a shift?
Do employees seem to enjoy their jobs and engaging with the residents?
Will the same staff be with your loved one daily or does the facility shift employees?
How well does the home screen for the flu and pneumonia? What is their approach to preventative care?
Does the dining service offer meals that meet your loved one's dietary needs?
Does the facility offer recreational, social and religious activities to residents?
Does the facility seem clean? Are you noticing any strange odors in the rooms?
How secure is the facility? Could your loved one easily wander off?
Long-term care is often essential for adults living with dementia. If your loved one has been diagnosed with this condition or you've become unable to meet their basic needs, turn to West Hartford Health & Rehabilitation Center. To learn more, contact us today.