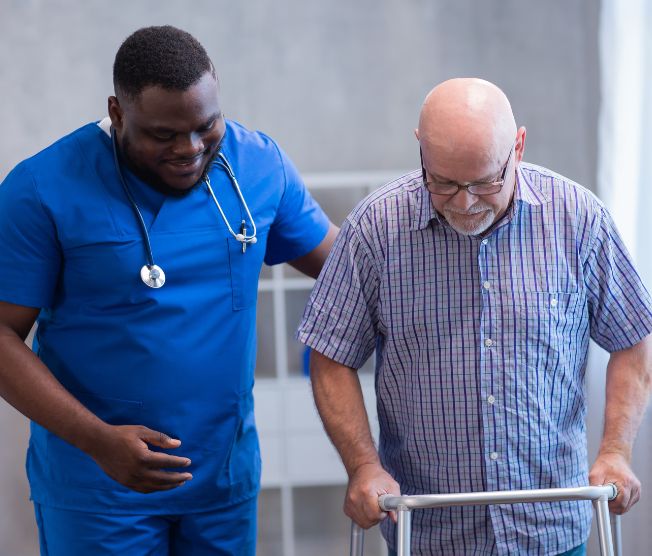 A degree of mobility loss is expected with age, but certain conditions can accelerate this pattern. Specifically, Alzheimer's disease and other forms of dementia can result in slower movements and increases risk for falls and other accidents.
Until recently, Alzheimer's was primarily considered a cognitive condition. Yet new studies have identified a relationship between disease progression and how a patient's gait and movement change. For yourself or a loved one, learn more about how Alzheimer's disease can affect mobility.
Progression of Alzheimer's Disease
In the early stages of Alzheimer's, the disease starts to affect memory and cognitive function. Mobility changes also start to take hold, including balance and stability issues. To counteract these effects, patients are encouraged to routinely walk and move around.
Decreased mobility becomes more prominent as the disease progresses. At this stage, Alzheimer's begins to have a more pervasive effect. Beyond neurodegeneration, patients also experience musculoskeletal and cerebrovascular changes, which impact independence and safety. These factors increase risk for becoming disabled or leading an entirely inactive lifestyle.
As these changes take place, patients past early-stage Alzheimer's:
Begin to walk slower or take on a more uneven gait.
Experience greater difficulty with executive functioning, including recalling recent information, multi-tasking, decision-making, planning and prioritizing tasks, and performing activities of daily living.
Become less or completely inactive, increasing their risk of developing pressure sores, infections and blood clots.
Staying Active as an Alzheimer's Patient
Moving throughout the day and modifying the home can help decrease risks for pressure ulcers and other complications. Based on Alzheimer's stage:
Consider working with occupational and physical therapists: Discuss how your loved one can safely move around the house. At a minimum, chair-based exercises count as movement and reduce risk for injury.
Walking: If your loved one is able, schedule walks throughout the day. If they can go outside, make sure they have someone for assistance and to avoid getting lost.
Changes around the home: You may need to make certain modifications to improve mobility and reduce fall risks. This can include handrails and grab bars, fully secured rugs, sufficient lighting and reducing trip hazards.
Activities: Look for activities you can do together or that require minimal assistance. Based on Alzheimer's stage, this may be cooking, gardening or birdwatching.
Consider footwear: Provide your loved one with adequate footwear for walking around the home and outdoors. Ideally, the shoes should slip on but not easily fall off and have a textured outsole for traction.
Are you concerned about your loved one with Alzheimer's or another form of dementia? Work with West Hartford Health & Rehabilitation Center to ensure they receive the care they need. Contact us today to learn more about our memory care unit and highly trained staff to assist individuals throughout each stage.