As a highly rated facility with an excellent reputation in the community, West Hartford Health & Rehabilitation Center is looking for caring people to provide the quality care we are known for to our residents.
We are changing how care is delivered by bringing together people like you – passionate, highly skilled and motivated to make a difference. Join our well established team today!
Purpose of Position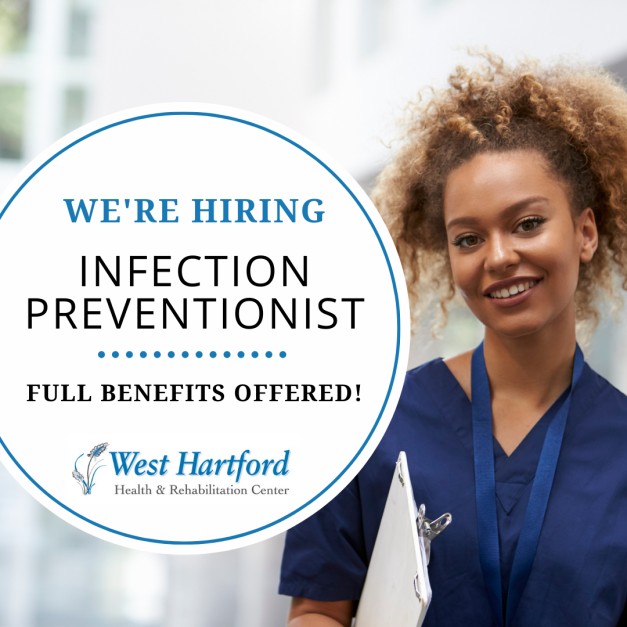 The primary purpose of your position is to plan, organize, develop, coordinate, and direct our Infection Control Program and its activities in accordance with current federal, state, and local standards, guidelines and regulations that govern such programs, and as may be directed by the Administrator and the Infection Control Committee to ensure that an effective Infection Control Program is maintained at all times. This position also includes Wound Care.
Educational Requirements
At a minimum, must possess a Nursing Degree from an accredited school of nursing, college or university. Must be CPR certified.
Experience
At a minimum, must have two (2) years clinical experience in a hospital, long-term care facility or other related health care facility
Must have training in rehabilitation and restorative nursing practices
Must possess a working knowledge of epidemiology, microbiology, infectious diseases, and aseptic techniques to include universal precautions
Certification in Infection Control preferred, but not required
Schedule
40 hours M-F
On-Call Required
Eligible for Sign-On Bonus
West Hartford Health & Rehabilitation Center offers the following benefits*
Medical Insurance including free Telehealth
Dental Insurance
Vision Coverage
Direct Primary Care (DPC) /Tax Savings Program
HRA Account
Basic Life Insurance
AD&D Insurance
401k and 401k Roth
Voluntary Benefits through Colonial Life (Critical Illness, Hospitalization, Disability, Life & more)
Paid Vacation
Paid Sick Days
Paid Holidays
Shift Differential
Weekend Differential
*To eligible employees based on hours and length of service